E-Z FOLD Series: The All-in-One T-Shirt Folding Machine
Save time and money while increasing your productivity. With a t-shirt folding machine, you can improve your capabilities. At NEDCO Inc., we uphold a proud tradition of innovation and customer service. With the E-Z FOLD series of automatic garment folders, we have developed products that will serve your business faithfully. Look through our selection and find the finishing and packing equipment that meets your needs.
The E-Z Fold 2000-S T-Shirt: Automatic Textile Folding System
The E-Z Fold 2000 is an all-in-one folding, bagging, and heat-sealing system that finishes about 1,000 garments per hour. Our flagship product is the most popular piece of equipment that we manufacture.
At the heart of the E-Z Fold system is its adjustability. Actuated tucking adjusters and an adjustable folding plate allow the machine to fold both men's and women's garments quickly and efficiently—and on the fly. This adaptability makes the E-Z Fold compatible with t-shirts, polos, and sweatshirts. It folds and bags screen-printed and embroidered garments with ease and consistency.
Power Requirements: 110 volts – 50 Hz – Other voltages are available. Compressed Air Required-100 lbs. PSI of Clean Compressed Air at 3-5 CF
LS-4200-S Long-Sleeve Attachment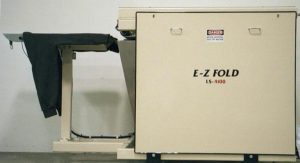 This machine can be attached to the E-Z Fold 2000-S to fold long-sleeved garments. This shirt-folding machine is an inline belt device that also handles jerseys, fleece, and long-sleeve tees.
The LS-4200-S seamlessly attaches to the E-Z Fold 2000-S, minimizing downtime and increasing productivity. As a modular device, you can make changes to your facility quickly. Variable-speed tucking belts give operators greater flexibility in controlling the fold location.
E-Z Fold TX-5-S Lightweight Folding System
Take your business further with the TX-5-S. Designed with smaller businesses in mind, this t-shirt folder is light and mobile, allowing for quicker setup and simpler storage. With our patented Positive Track Technology, you can fold and pack screen-printed and embroidered goods with ease. Of course, this innovative system can also be used in larger facilities to create multiple workstations.
The TX-5-S incorporates fewer moving parts, allowing for easier operation and inexpensive maintenance. It folds garments to widths from 6" to 11" at a rate of 400-600 units per hour. This t-shirt machine also includes a Return-to-Operator feature, minimizing the need for multiple operators on the production line.
Power Requirements: 110 volts AC-6OHz – Other voltage available upon request – 100 PSI Clean, Dry Compressed Air @ 2-3 CFM
Highly Modular and Customizable
All of our E-Z Fold t-shirt machines are designed to work with our line of bagging and packing products. You can combine our conveyors, bagging and sealing machines, and labelers to create a complete finishing line. With our all-in-one textile folding system, you can give your business the competitive edge.
Contact us to place your order for our line of shirt-folding machines. Our company is based in Atlanta, GA, and we serve customers nationwide.