Packaging Made Simpler with the Automatic Bag Sealer
Improve your processes and increase the productivity of your facility with the help of NEDCO Inc. When you are making upgrades to your facility, every station of your line counts. To that end, we have developed an innovative automatic bag sealer that will make packaging and finishing simple and cost-effective. Carefully engineered with speed, ease of use, and safety in mind, we are confident our line of bagger-sealer machines will make your facility more efficient. Count on us to help you find solutions that will extend your bottom line.
Packaging your t-shirts, polos, sweaters, and other garments has never been easier. Our bagging and sealing machine combines two processes in one, allowing you to produce more garments and save more time. This innovative station is compatible with our line of packaging machines and may be placed after the shirt-folding station. A sophisticated photo-eye system gives a controlled and automated start to the packing step, giving operators an easier time moving the product to the back.
When the operator fills a bag, they move the product to an automatic heat sealer to give the bag a secure closure. The machine gives the package a strong seam while pushing out excess air. The result is a compact, well-contained product that is ready for labeling and shipping.
Get the Right Unit for Your Assembly Line
Our automatic bagging and sealing machine is available in a variety of sizes. It can bag a variety of garments, including t-shirts, hoodies, polos, and sweatshirts. Units that specialize in packaging youth-sized garments are also available.
The automatic bagging machines and sealers are available in four sizes: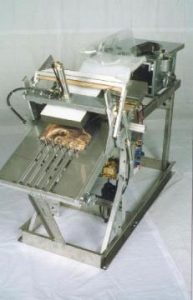 Model Max II – 618, 620, 624, 630
18" Model is for products less 14" wide
20" Model is for products less 16" wide
24" Model is for products less 20" wide
30" Model is for products less 26" wide
Additional Equipment Features
Our bagger-sealer units are highly versatile and built to last. By adding our equipment to your production line, you can pack more, ship more, and earn more. Product features include:
Bagger Enter Horns: Can Be 1" Thru 4" Wide
Thermal Impulse: 1/8" Bead Edge Seals Double Lines for Higher Gauge Films
Air-Operated Product Compression Pad: Gently Squeezes Excess Air out of Packaging
Wicketed Bagger: Standard for a Max-UBII with a Photo Eye Product Start Switch
Double Seal and Compression: An Optional Addition for Heavy-Duty Packaging
Apply for Financing Read the Brochure Contact Us Watch the Video
As always, we are committed to helping you get the right solutions for your facility. You can always contact us directly to find the correct equipment to meet your needs.
Contact us to place your order for our automatic bag sealers. Our company is based in Atlanta, GA, and we serve customers nationwide.