Comforter and Pillow Compression Machines
Comforters, pillows, and large cushions are easier to pack, store, and ship when you invest in pillow compression machines. At NEDCO Inc., we have developed an array of packing and sealing solutions that will increase your productivity and extend your bottom line. Thanks to our use of advanced technology and manufacturing processes, we offer an extensive selection of equipment that will fit your budget.
Our experience with manufacturing solutions and packing equipment empowers you to take your capabilities further. With our pillow pressing machines, packing large blankets and cushions is simple, effective, and safe. On top of that, we are committed to ensuring you get the most from your investment—we provide ongoing product support that will extend the service life of your equipment.
About our Compression Sealers
Allow your employees to save time and energy with our line of quilt, cushion, and pillow compression sealers. Compressed pillows and similar objects are easier to store for shipping, which improves productivity. As a self-contained system, our sealers compress and seal bagged cushions and blankets with ease—completing two finishing steps in one! Additional benefits include:
Heavy-Duty Capabilities: Our sealers are designed to work with heavy-duty poly-bags.
Versatility: These machines handle a variety of products of different sizes—including folded items.
Time: It takes about 5 seconds to compress and seal a product, streamlining changeovers.
User-Friendly: All controls are centrally located and easily adjustable, making the process safer.
Strong Seal: The use of LPDE thermal bags and a double-seal setup ensure a durable package.
Operation is simple and intuitive. The stainless steel guide plates reduce fatigue and position the seal where the operator needs it. Three start options are available through a photo-eye system, a pedal sealer start switch, or a double-safety button start.
The compression sealers can also be fitted to be mobile, allowing your teams to adjust your facility layout easily and safely. All models may be equipped with lockable casters to create a secure packing station
Choose the Right Sealer to Meet Your Needs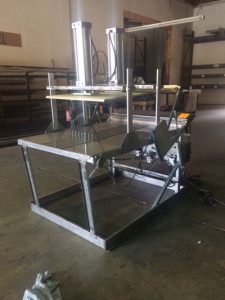 You offer unique products. Equip your facility with the right machinery. Our quilt and pillow compression machines are available in different configurations. Since we offer several different models, your facility will have the proper equipment to meet your production goals. Our models include:
#SS-62430-VS Vertical Single Cylinder or #SS-62430-HS Horizontal Single Cylinder
#SS-62430-VD Vertical Double Cylinder or #SS-62430-HD Horizontal Double Cylinder
#SS-63036-VS Vertical Single Cylinder or #SS-63036-HS Horizontal Single Cylinder
#SS-63036-VD Vertical Double Cylinder or #SS-63036-HD Horizontal Double Cylinder
Apply for Financing Read the Brochure Contact Us Watch The Video
Contact us to place your order for our quilt and pillow compression machines. Our company is based in Atlanta, GA, and we serve customers nationwide.