A Label Machine That Makes the Finishing Process Easier
Labels make it easier to identify, locate, and track your products. Add a useful component to your finishing processes while saving time and money. At NEDCO Inc., we have developed a state-of-the-art label machine and system that will expand the capabilities of your facility. By adding automatic labeling to your processes, you can streamline your production—and extend your bottom line.
About the Model L-15 and Model L-60 Label Makers
The Model L-15 and L-60 Label Applicators are compatible with the E-Z Fold automatic shirt-folding system. Designed with ease of use in mind, these assemblies can print and apply labels to bagged garments quickly and easily. Key benefits of the Model L-15 and Model L-60 include:
Complete Labeling System: The Model L-15 and L-60 are both complete systems. They create and apply labels at high speeds, completing several steps of your finishing process at once.
Solid Construction: The all-metal construction of anodized aluminum and stainless steel resists rust, making this component tough and ready for a variety of facility conditions.
Adjustable: The guides of both models can accommodate labels of different sizes, allowing these machines to label a variety of different garments--whether as part of wholesale or retail environments.
Ease of Maintenance: Both models are made with state-of-the-art, solid-state electronics. With fewer moving parts in the hardware, the risk of mechanical failures--and downtime--is reduced.
By combining advanced technology with rugged durability, our Model-15 and Model-60 Label Maker machines are sure to make your finishing process simple and stress-free. Best of all, our machines are completely compatible with the other pieces in our catalog.
Find the Right Model That Meets Your Needs
Get the proper equipment for your production line. Our automatic label applicators accommodate garments and packing solutions of various sizes. The technical specifications for our equipment are found below:
Model L-15
Fully Automatic High-Speed Pressure
Sensitive Label Apply
Available In Right or Left Hand Configurations
Dimensions: 18-1/2" W X 22" D X 21-1/2"H
Speed: Up to 1350" minute standard
Label Capacity:
Length: 1/2" Minimum and up
Width: 1/2" to 4-3/8" Standard
Wider Label Width Capacity Available [Up to 9"]
12" Label Roll Diameter with 3" Core
Power Requirements: Standard 115 VAC
Model L-60
Dimensions: W-19" x L-21" x H-24-3/4"
Speed: Up to 60 products per minute
Label capacity: From 1/2" W x 1/2" L to 4 1/4"W x 10"L
12" Maximum Roll Diameter with 3" Core
Power Requirements: Standard 115 VAC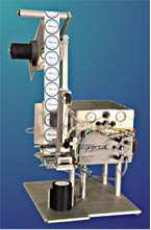 Contact our company to place your order for automatic label applicators. Our company is based in Atlanta, GA, and we serve customers nationwide.